NA is known as the land of no junglers, but is that true? Top NA talent is really not getting a chance to prove themselves. Often times NA teams simply turn their eyes to EU or Korea to import talent, but what about their own home grown players? With Dignitas signing Helios, perhaps they should take a page from EU's book and gamble on domestic talent. Take Kasing for example: he is a player who didn't develop into a star until Season 5. He suffered through various challenger teams and bottom LCS teams and now is an ascending star. Here are 4 other NA junglers who Dignitas should consider fielding.
(Image courtesy of http://www.tfesports.com)
1) NintendudeX (Team Fusion)
Pros:
Has been around a long time and has international experience.
Success with Monomaniac / Team Dynamic -eliminating Moscow Five in the IPL 4 Qualifiers -achieving 4th place at IPL 4, defeating aAa (Yellowstars, & Soaz season 1 world champion final team) and Curse Gaming -Placed 2nd in Team SoloMid North American Invitational -Top 4 in 2012 Major League Gaming Spring Championship. Beating Fnatic & CLG.EU -3rd in 2012 MLG Summer Championship ( the top 2 teams Curse Gaming and Team Dignitas respectively were disqualified due to collusion.)
Booted off Team Dynamic because of his competitive nature and his thirst to win., NintendudeX wanted his team to practice more. After Team Dynamic lost badly without him they asked him to rejoin.
With Team Coast / Good Game University: - Fought through the 2013 North American LCS Qualifier to secure their spot in the Spring Split of the NA LCS. -Overcame a seven game losing streak (2-12 record) in order to place sixth (with a 11-17 record) in the regular Spring Split season. - Finishing 2nd after playoffs, engaging in a 5 game final series with Team SoloMid
Cons:
- In 2013 summer split, he barely staved off relegation, going 5 matches with The Walking Zed - In 2014 spring split he was forced to face relegation again, this time being upset and losing to underdogs, compLexity.Black, (who in turn were relegated the following split) - Lost to Dignitas in 2015 spring relegation matches
He is a seasoned veteran with a long track record of success again NA and EU teams. He has worked with Shiphtur before as well as other Korean imports. He has a strong work ethic, as he keeps trying to fight his way back to the top. He's been in the game a long time, only had success in the early seasons. It is not likely that he has any untapped potential left. There's a high probability of him being a known quantity (like Helios). Simply put, NintendudeX might have peaked in 2013.
The question that needs to be answered is whether or not NintendudeX is worn out or does he have a chip on his shoulder with something to prove.
(Image courtesy of team-dignitas.net)
2) Azingy (Dignitas)
Pros:
-Dignitas has a winning team record (3-1) right now, even taking a game from Cloud9, and Azingy has a personal KDA of 7 - Keen tactical mind rivalling TheOddOne - Already used to Dignitas' playstyle - Has been a sub for Dignitas since the beginning of 2014 - Impressed Dignitas with his strong work ethic: "stays up late watching replays and grinding solo queue" - Known for Karthus Jungle, can introduce a little bit of chaos on the Rift similar to the Unicorns of Love
Cons:
- had a pathetic 1.5 KDA in spring split ( Helios had a 3.19) - untested, only played 8 games - Even against challenger team, Fusion, Azingy was a low impact performer, often times having the lowest KDA and/or kill participation in the team, regardless of if Dignitas wins or losses
When one looks at the stats there is not much going for Azingy even when compared to Helios. The argument for him lays in what he could become, with his hunger to improve, tactician skills and Dignitas' support structure. Without Azingy, Dignitas only won 6 out of 18 games in the entire spring split and with him they have already won 3 out of 4 in the summer split. Already defeating some of last years play off teams, if given the whole split we could have born witness to the beginning of a new dominant jungler.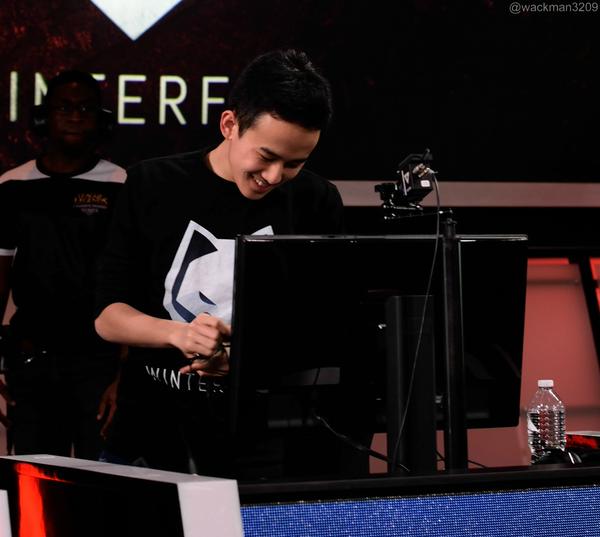 (Image courtesy of Winterfox)
3) ShorterACE (Winterfox)
Pros:
- He has been playing League of Legends since the closed beta. - Quarterfinal finish in the 2014 NA challenger series - Finally finished high school - Some LCS experience when he substituted for Helios in the first week of the 2015 NA LCS Spring Split; Winterfox went 1-1 in this time
Cons:
- When he was on Brawl.NA, without legendary midlaner Alex Ich, they were knocked out in the first round of the NA Challenger Spring Qualifier - had a KDA of 1.9 in the few games he did play in the LCS
Not much is known about this challenger, but with high school coming to an end for ShorterACE there is nothing holding back the young up and coming jungler. Who knows what he could have brought to an LCS team given the chance to focus 100% on League of Legends. His talent has already earned him a spot with Winterfox, as they attempt to fight their way through the challenger scene, and a substitute spot with Enemy. It is all but impossible for Dignitas to make it to Season 5 worlds, but it is not too late for them to sign and develop high upside talent now, for Season 6.
(Image courtesy of esportspedia)
4) heavenTime (Team LoLPro)
Pros:
-speaks Korean & English -won 2013 MLG Spring Championship Promotion with "To Be Determined" -finished in the top 4 of the 2014 NA Challenger series with Team LoLPro - started playing in Season 1 -reached master league -desired to be a pro gamer before League even existed
Cons:
-never played in the LCS -never even made it to a promotion tournament
Born and raised in Korea for 15 years followed by living in NA for over 5 years, he has the best of both worlds and should not count as an import. Instead he will be able to be a bridge between Dignitas' imports and domestic players. After the exodus of veteran Dignitas players, scarra , ZionSpartan , Imaqtpie , and Crumbz , it would benefit them to follow the rebuilding model of another League team suffering from a mass veteran exodus – Fnatic. HeavenTime could be Dignitas' Reignover, an English speaking Korean jungler empowering the teams Korean Top Laner. Weak teams, like Dignitas (there current 4-2 record not withstanding), should take a chance as they have nothing to lose and everything to gain.
Helios had his day in the sun. Look at Reignover aka gameover -- sometimes the right team can make a player reach the next level. NA LCS only has to look at Kez who battled his way into the LCS with Team Dragon Knights to see the latent ability in NA junglers. He has a 2.4KDA (the highest on his team) with a team that has lost every match so far in the first 2 weeks. There is definitely talent in the challenger scene, it just needs a chance to shine.
Cover image courtesy of Jacob 'Brayll' Wolf.