Worlds 2022 has come to an end. League of Legends S12 is wrapping up. The pro year is over... Don't fret, though! Content is still coming. Here's our ESH Worlds 2022 recap. This is part 1 of 2.
Play-ins
The Play-ins stage is always a matter of discussion when Worlds comes around. Even amongst industry people and experts, opinions vary wildly. Some people think it is a waste of time, others believe that it is a necessary component of a truly international tournament. Regardless of what you think, this stage of Worlds 2022 means a lot more now that we have the full picture. One of the teams that got through this stage one the entire tournament, after all. Let's not get ahead of ourselves, though.
The biggest surprise in this initial stage of the tournament was MAD Lions, for all the wrong reasons. The 4th European representatives had a decent showing in what was a pretty tough group, but only to get swept by a struggling EG roster. DFM had a few bright moments once again, but having to beat RNG in a BO5 proved to be too much of a challenge for the LFL representatives. Loud had a very respectable showing but couldn't make it past the first BO5 elimination game. Fnatic had a pretty solid BO1 stage, netting them an instant qualification for the main event, despite having to play with a substitute support player and with little to no scrims.
RNG and DRX stood head and shoulders above everyone else. The two 4th seeds from the strongest regions in the world had little opposition, other than each other. Xiaohu's squad came into the tournament as a dark-horse, but got immediately beaten by Deft's team. Players with covid and jetlag made people throw away the result, rightly so. No one could believe in what DRX was about to do, likely not even the players themselves.
Worlds 2022 Group Stage
This year's group stage was brutal. The only group where, on paper, you could argue a team outside the LCK or LPL had a chance, ended up being the group that was headlined by the eventual World Champions.
Group A- World Champions and the GOAT
T1 and EDG breezed right out of this one. Fnatic head a much rougher showing, managing to win only two BO1s in the entire main event. Funnily enough, one of those wins was against Faker's intimidating line-up, but the FNC that showed up in that BO1 never came back.
Cloud9 looked lost in the meta and never seemed even close to beating either one of the LCK or LPL teams. They did manage to get a win out of Fnatic in the second round robin, but that was their only BO1 win. Jensen had some impressive performances against Faker, but it wasn't enough. T1 had a slip in their first game against Fnatic, but no one else managed to take their Nexus, not even the reigning world champions. EDG, on other hand, made every game that wasn't against T1 look easy. Viper was a beast and Scout looked very dominating.
Group B- RIP EU and NA
B stands for Brutal, because this Group left the two western teams no chance in hell to make it out. G2 and EG were essentially battling for third amongst themselves, while they watched as DK and JDG played some of the most impressive BO1s in the entire tournament.
The number one LPL seed was a favourite to win the entire thing, so their performance here wasn't surprising. 369 was a beast, Kanavi was dominating every game with Yagao by his side. Damwon gave them a run for their money, though. With the meta changing considerably in their favour, the 2020 World Champions rallied behind Canyon to force the LPL champions to their utmost limits. They finished second in the group after losing an extremely close tiebreaker.
Group C- The supposed weak one
C brought us the surprise. Top Esports, LPL finalists and one of the top three favourites to win the Summoner's Cup, eliminated in third place. This now seems to be a consistent trend with the LPL at Worlds, but losing a representative that was a single game away from winning the Summer Playoffs was a heavy blow.
Above them stood Rogue, the LEC #1 representative who rode an incredible first week right into playoffs. Larssen an co. beat every single opponent in their group at least once, and ensured a second place finish despite a much more shaky second week. Topping the group up was DRX. This was an impressive achievement, but one that could still be justified by outside factors. TES did underperform and Rogue weren't exactly top tier opposition. GAM Esports had no chance at all, despite their miraculous victory against the LPL #2 seed. This group did give us a hint of what was to come: Zeka dominating, Pyosik confirming his place and Kingen playing much better than expected.
Group D- RIP NA and SEA
This was basically Group B.2. It isn't a group of Death, because choosing between B and D wouldn't be an easy fit. One thing was for certain, though, 100T and CTBC Flying Oysters didn't stand a chance. The NA representatives did manage to pull out a win, but it was against the SEA squad. At no point in time did they look remotely capable of beating either GEN or RNG, who breezed through this entire group.
The Flying Oysters did win the title for best name in the tournament, but their only other victory was against 100 Thieves. The LPL and LCK teams proved too much for the squad to bear. The first place decision in this group was extremely weird. GEN. G looked strong throughout, but not even close to what they'd shown in the LCK. RNG looked much more dangerous then they did in Week 1, but were quickly dispatched off by the South Koreans in back to back BO1s to finish of the group. There was a caveat though; every RNG player was in isolation due to Covid.
Worlds 2022 Quarter-Finals draw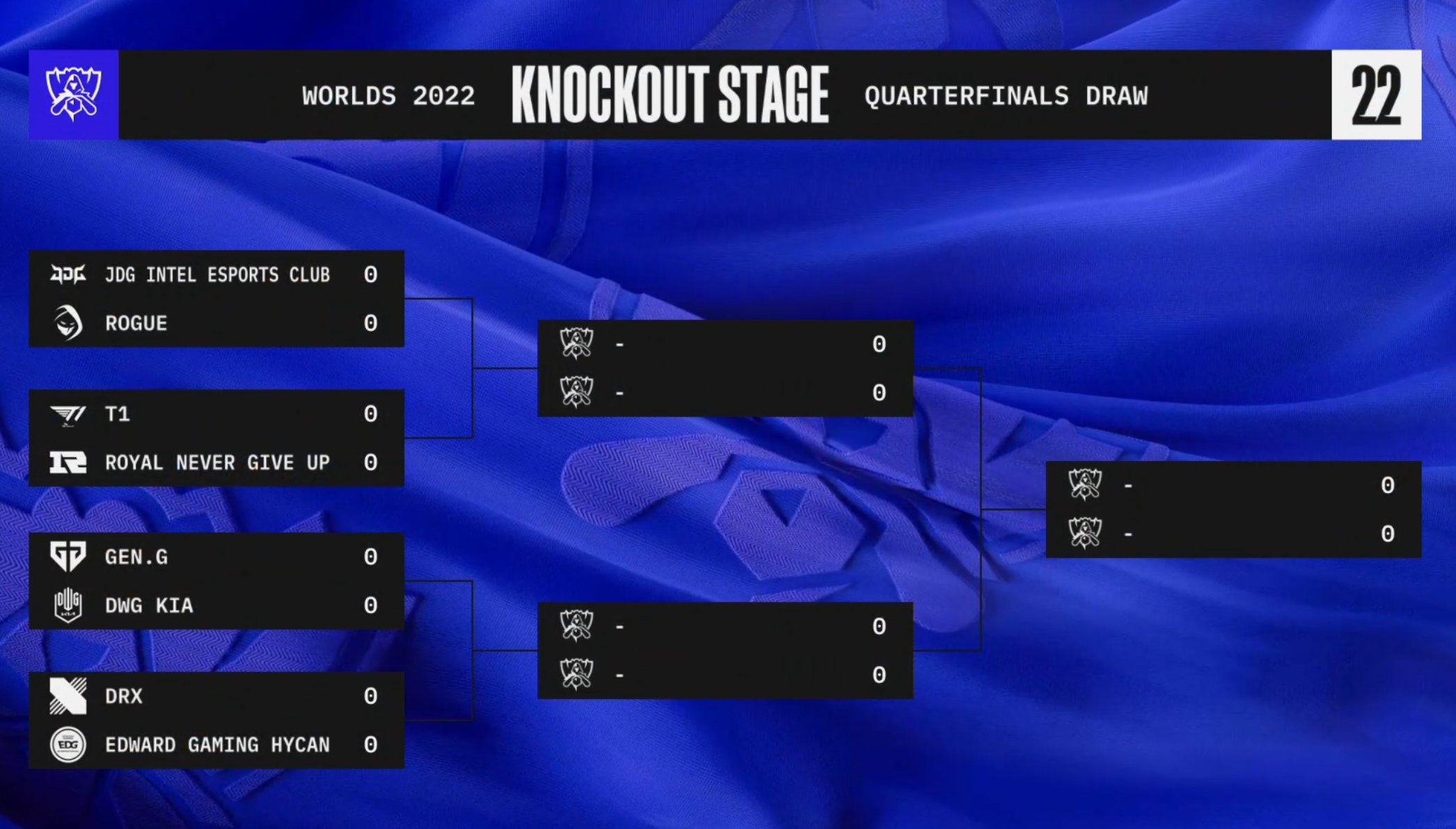 This bracket draw was a blessing from the Runeterran Gods. Aurelion Sol himself flew down from amongst the stars to bless us with the first truly great knockout-stage in years. In the next and final part of this series of articles, we'll go over the Knockout Stage, the amazing Finals and Riot's surprisingly good shoulder content.
---
Images courtesy of Lolesports.
If you enjoyed this piece, follow the author on Twitter at @mushwrites.
For more League of Legends content, visit our League of Legends hub.